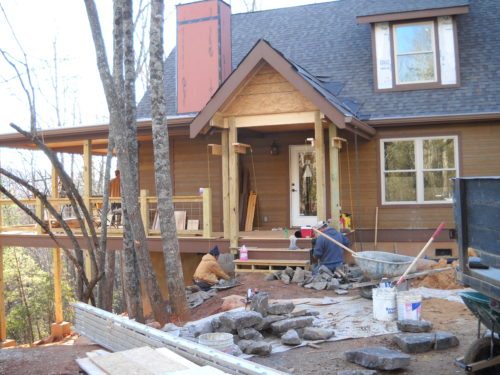 We would like to make the adventure of building your home in our community as easy and enjoyable as possible.   Keep an eye on this page as we will add more information as we can.   So check out our builders, and what they can offer you, and feel free to call with any questions you might have.   You are of course free to use any builder you would like.   Check the Architectural Guidelines page for the few restrictions and guidelines we have.
Slickrock Custom Homes, Tyler San Souci
Cell 828 736 1831 and 1832
tyler@slickrocknc.com
www.slickrocknc.com
Tyler is responsible for building the homes on Lot 20,  29, 16, 13, and currrently lots 39 and 6.   He builds both stick built, and factory built modular homes.   Tyler is about to start buiding a spec. house on Lot 30 for us, a 2 bedroom cabin with a fantastic view, call Carol 828 788 3648 for more information.   We hope to have it completed by the end of the year.
Perkins Brothers, Eric Perkins
cell 828 788 7781
erikrperkins@gmail.com
This is a true family business, the two brothers work with a few trusted friends to build homes with a wonderful eye for detail.   Their father Rand is their designer, and the brothers will only take on enough work that they know they can service well.    The brothers completed the panel log home on Lot 2 last fall, and are currently working on a beautiful home for the owners of lot 24.
Gregory Jenkins Builders, Inc.
Cell 828 736 1353
Email: gib.0926@gmail.com                                                                                
Gregory Jenkins Builders, Inc. is  located in the beautiful mountains of Bryson City, North Carolina. We specialize in the construction of custom, luxury and log homes built to your specifications on your dream site. Licensed for residential and commercial construction and currently building in Swain, Jackson and Graham Counties, we build to suit your needs within your budget. We are a professionally licensed North Carolina contractor, insured with Workmens Compensation and General Liability. For current photos of our most recent homes or personal recommendations from our clients, please either access our website www.gregoryjenkinsbuilders.com or look us up on Facebook at facebook.com/gjbuilders.